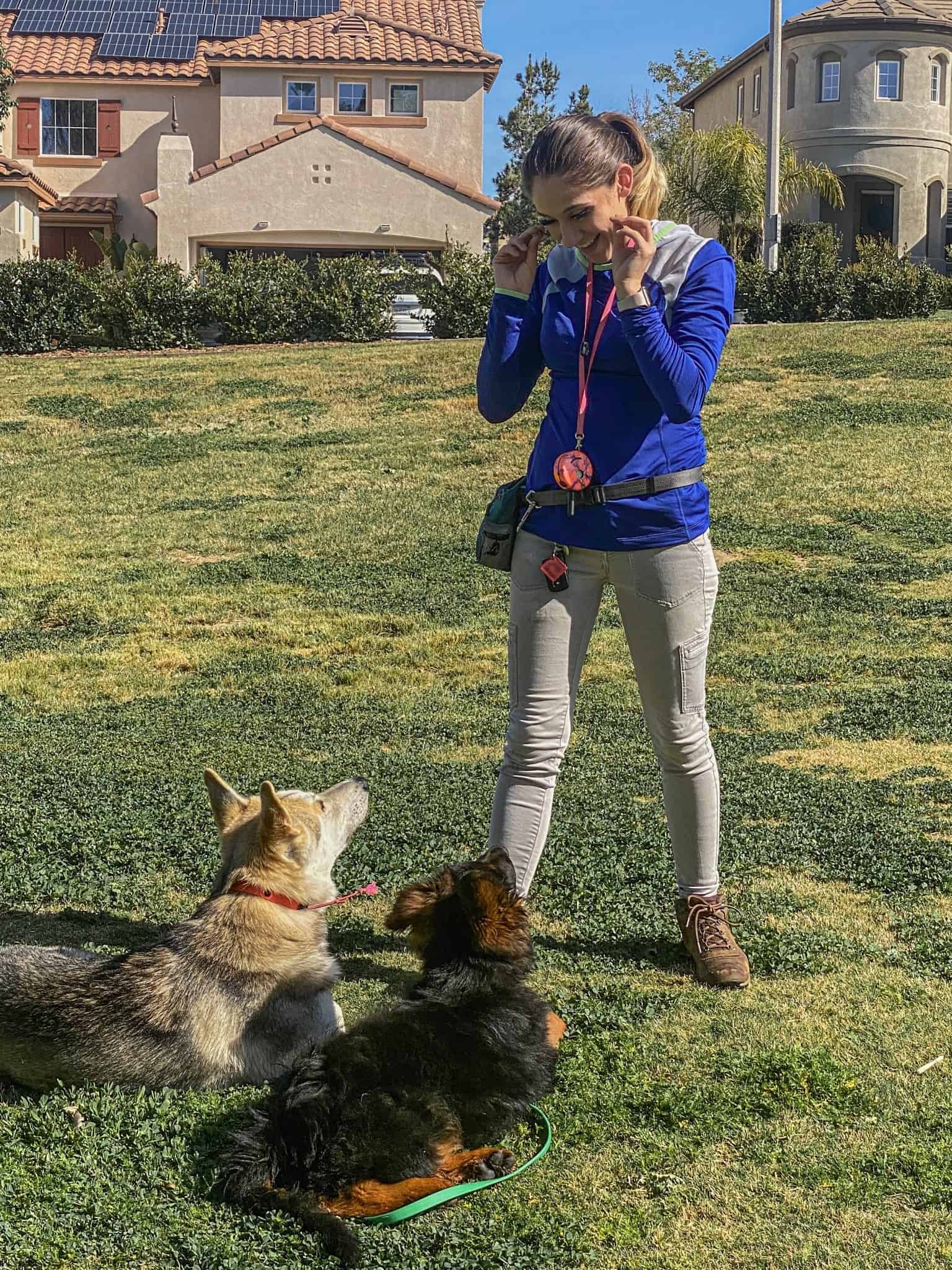 Ivory Warthen
Ivory Warthen is an enthusiastic passionate dog trainer that enjoys new and exciting challenges. She has been training dogs since 2017. Her career started in Southern California studying animal behavior, service animal work, dog aggression, and rehabilitation training at a top-tier trade school in Vista, California. She moved to Ohio in 2022 and started working with Bulletproof Dog Training. Over the course of her career, she has had a wide variety of experiences with different breeds and sizes. She is well-versed in working with owners and creating a successful relationship between them and their dogs. Ivory continues to grow and excel in her knowledge of the dog training world. Her goal is to ensure that every dog she trains is better enjoyed by its owner and that the bond and co-existence are unmeasurable.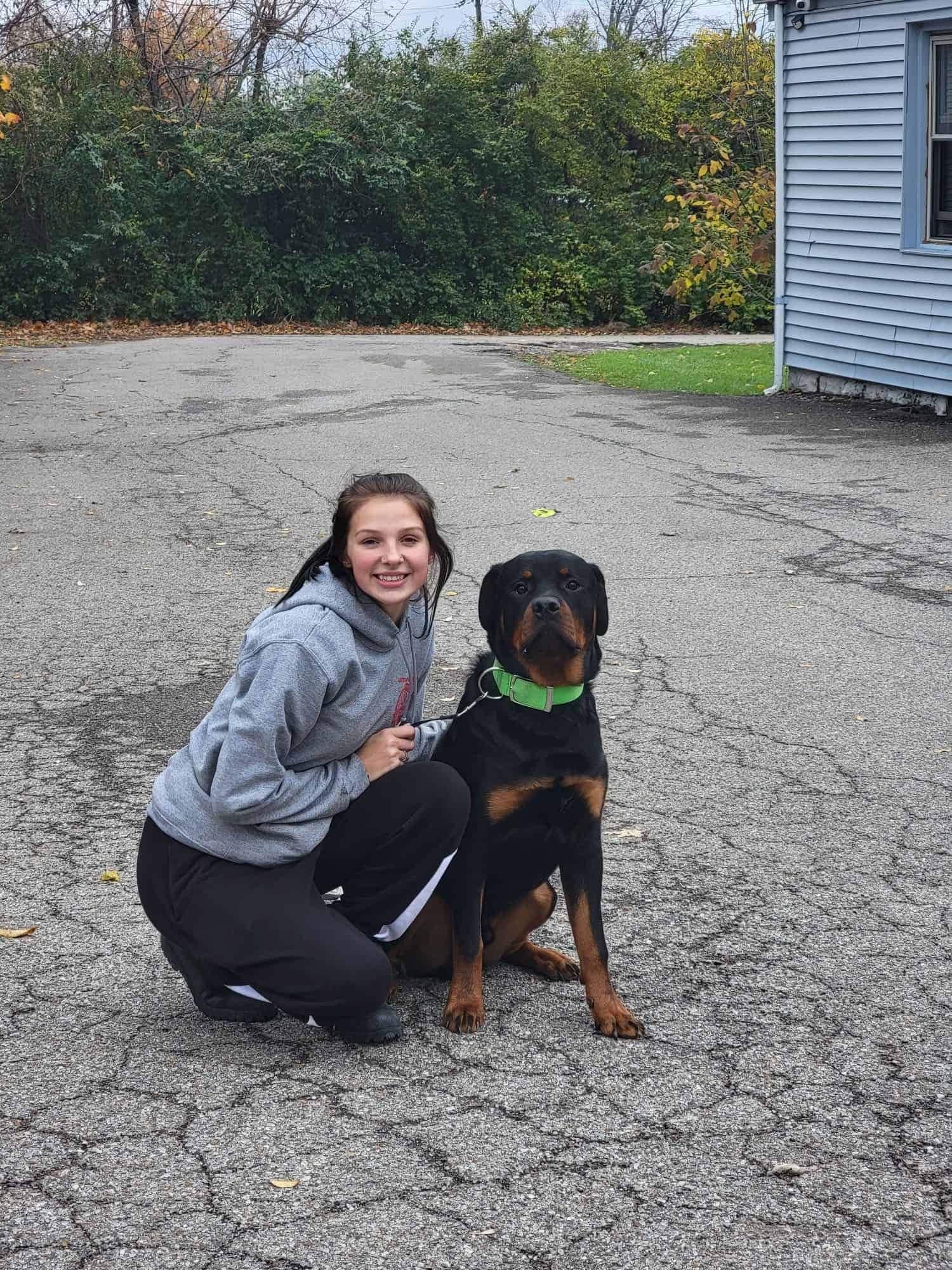 Madyson Nuxoll
Madyson Nuxoll has always had a passion for being around animals. This encouraged her to pursue a 2 year veterinary science program while still in high school, and allowed her to become a certified veterinary assistant by the time she graduated. Her love for animals led her to Bulletproof Dog Training where she started as a kennel technician and puppy class trainer. Madyson is now taking on board and trains and always looks forward to spending time caring for and training your pups!
Dakota Tuck
With a passion for training dogs, Dakota Tuck worked as a K9 handler for a local police agency prior to joining Bulletproof. Dakota attended a three month academy working with a green dog, in the areas of detection, tracking, criminal apprehension and evidence search. Now, he is using his skills and knowledge to help people and their pets have the best relationship possible. Dakota continues his passion for dog training and looks forward to working with you to achieve your training goals.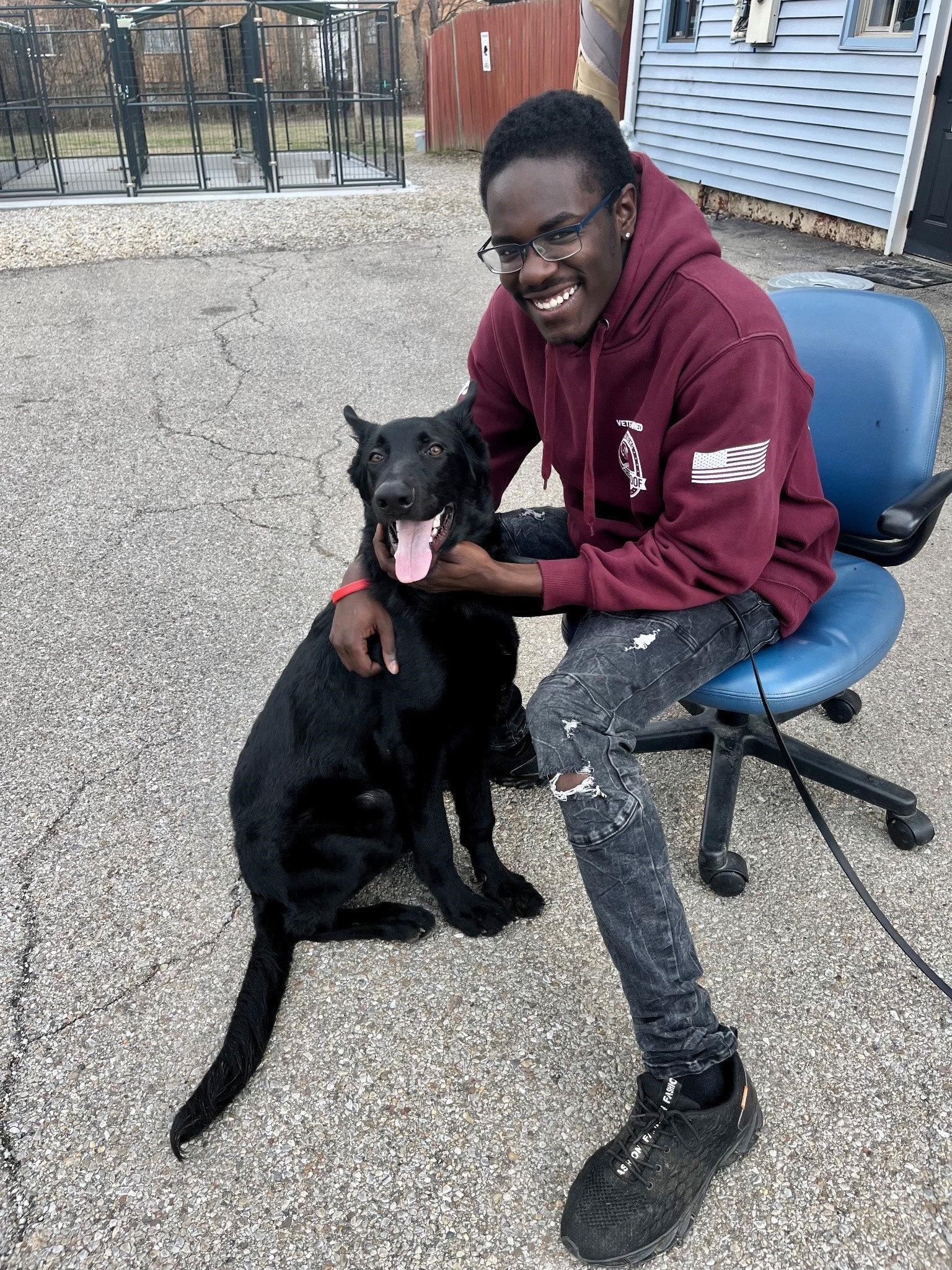 Solomon Thompson
Solomon Thompson was born in Cincinnati, Ohio. Dogs have always been a part of his life, so he has grown a passion and love for them. He has always been intrigued by different dog breeds and their behavior, as well as behaviors in other animals. He has always wanted to find a job working with dogs or other animals, but being with dogs was something he really wanted to do. After graduating from Northwest High School in 2021 and Butler Tech Equine and Animal Science in 2021, he found Bulletproof to be the perfect fit for him. One of his favorite parts of dog training is how it's a constant learning process and there is always a way to adapt training techniques to every dog. The best moment for Solomon as he trains is watching the transformation of each dog he has trained and seeing owners reactions to their well behaved dog and being part of the Bulletproof family!
Casey Ramirez
Casey Ramirez was born in Puerto Rico but has grown up in the Midwest for most of her life. Dogs have been a part of her household since birth, therefore she has always had a passion and curiosity for them. Furthering her knowledge of dog breeds and their behavior has always been a side hobby for her. She knew eventually she would find a job working with dogs and helping others. After graduating from Ohio University in 2022, she found her way to Bulletproof to follow this passion. One of her favorite parts of dog training is how you are always learning and adapting to each individual dog and family. The best moment for Casey as she trains is watching the transformation of each dog and being a part of that family's changed life.
Libby Wilson
Libby Wilson has always had a huge love for dogs! This led her to take a training course revolving around protection work/working K-9s in which she found a bigger drive to work with dogs who need basic/advanced obedience… since we all know obedience is the most important step to any training! This brought her to join the Bulletproof family. She can't wait to spend lots of one on one time with your pup and help them become their best selves!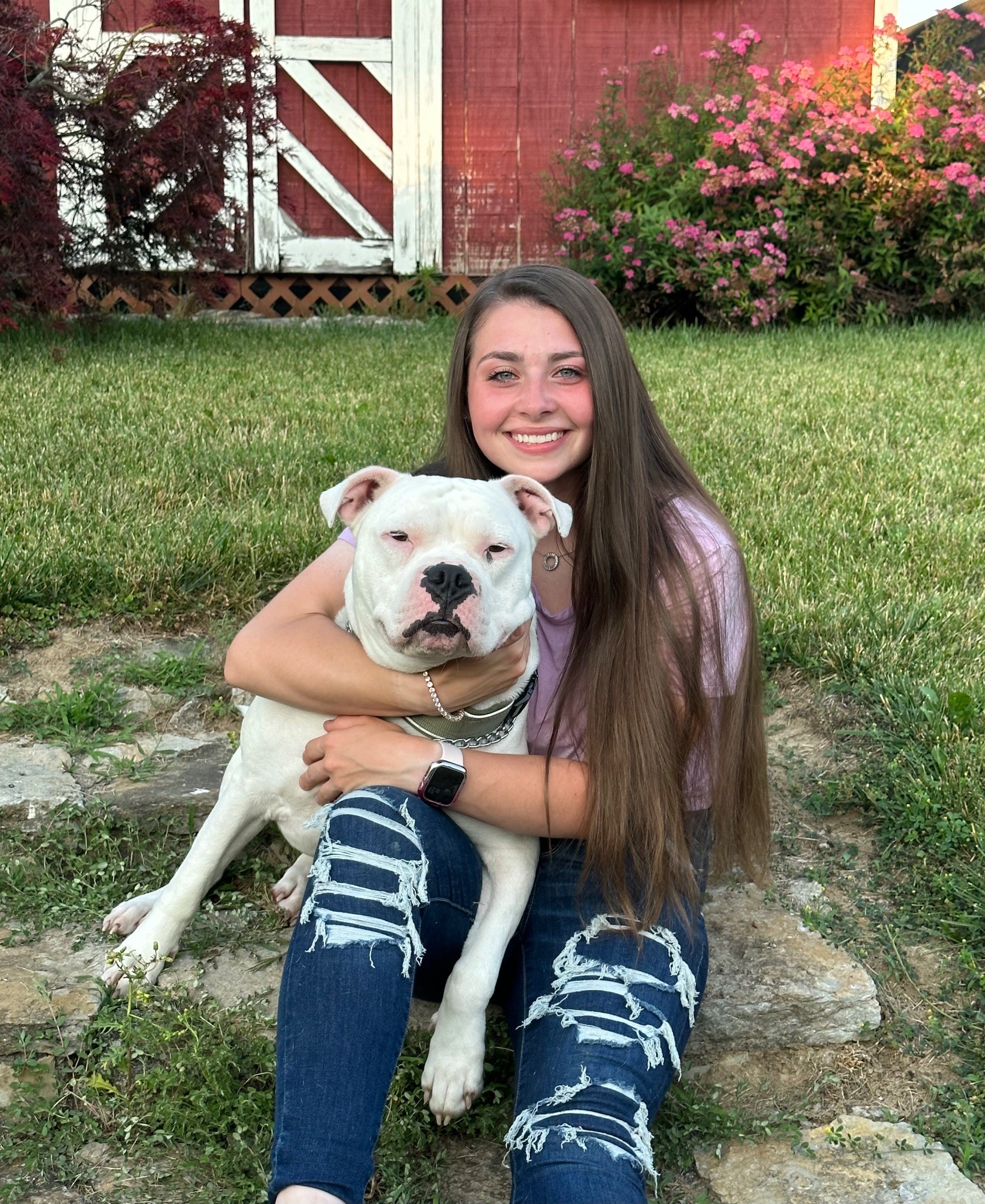 McKenzie (Kenzie) Conley
McKenzie (Kenzie) Conley was born and raised in Wilmington, Ohio. Kenzie has always had a growing passion for dogs and they have been a big part of her life. Kenzie's true passion in life is to work with dogs. Her favorite part of her job is helping owners understand their dogs better so they can build better relationships. Kenzie loves working with all different breeds and appreciates the challenges every dog brings. One of Kenzie's favorite parts of training dogs is seeing the reactions of the owners when they see their transformed pup. She always goes above and beyond for the dogs and the owners! Kenzie loves being a part of the Bulletproof family!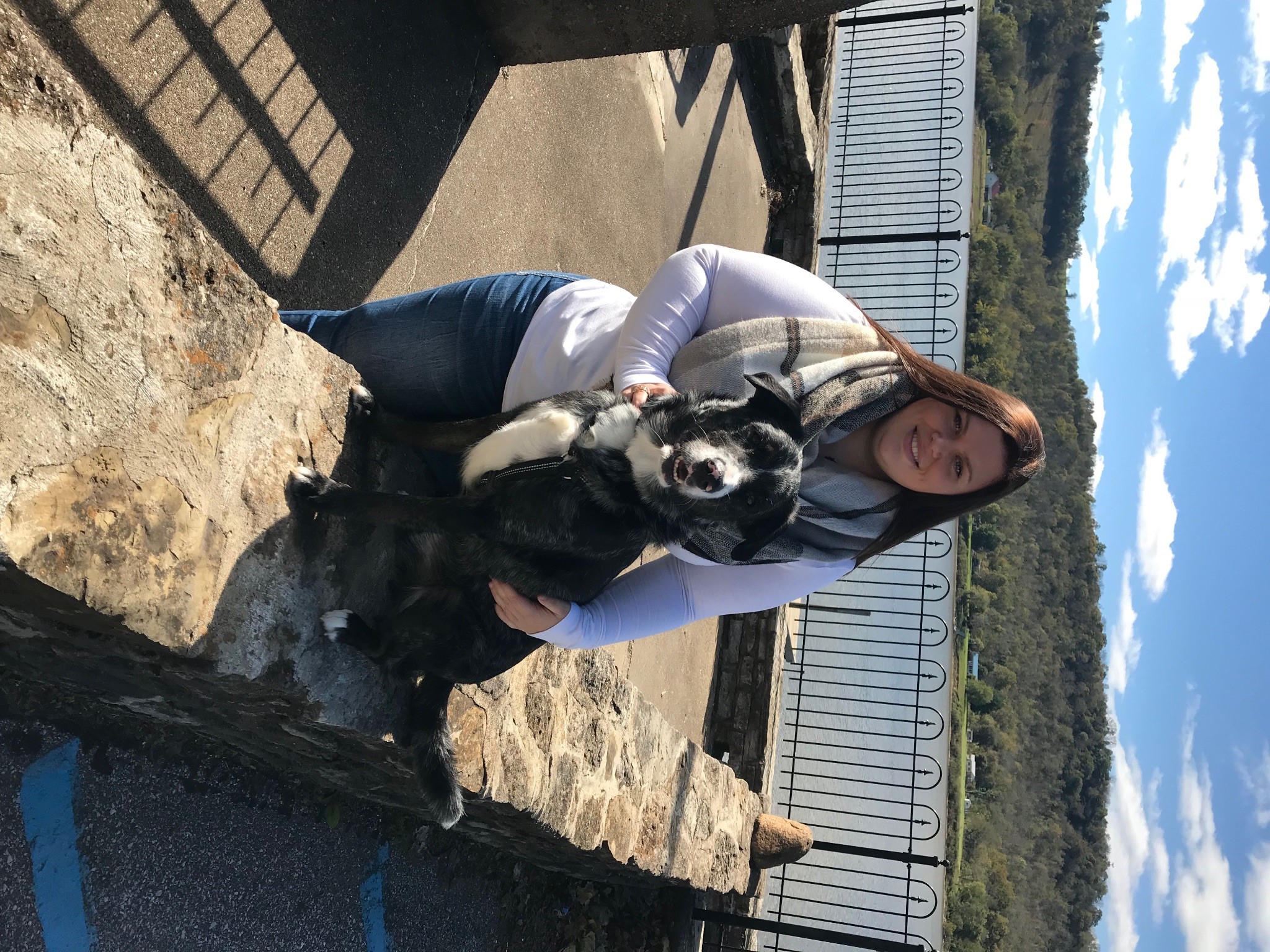 Sydney Stamper
Sydney Stamper has grown up around animals all her life but especially fell in love with dogs. She has always had a passion for everything dogs and has been working professionally with dogs since 2017. Sydney first started as a kennel tech then as a veterinary assistant, giving her experience in the wellness and health of dogs. She then wanted to get into the training side of the dog world and that is when she joined Bulletproof Dog Training. In her down time she likes to spend time with her puppy (Otis Lee) and family. Sydney's favorite thing about training is seeing how it changes the lives of both the owners and the doggies.
Cooper Krebs
Cooper Krebs has a passion to work with and help dogs become the absolute best dog they can be! He went through school for criminal justice but ultimately decided to follow his dream and begin working with dogs. His family and friends have always said he has a passion for dogs and they were right! Cooper's uncle was the one who suggested he work with Bulletproof after getting one of his dogs trained by us and loving the results. Cooper works hard and strives to get the best results out of every dog, every time.
Ashley Nutt
Ashley Nutt was born and raised in Upstate New York but she relocated to Texas in 2016. She has had dogs all of her life and has been working with dogs professionally since 2016. She left her job working at a major pet store chain and joined Bulletproof in 2019. Ashley is a huge dog lover with a passion to help dogs be the best version of themselves possible. Her favorite part of training dogs is witnessing the way a transformed dog can make an impact on the lives of the pup and their family. Ashley is an AKC Canine Good Citizen Evaluator.
Chrissy Atiles
Chrissy Atiles is a Long Island native who moved to Texas in the summer of 2020. She served in the United States Air Force from 2010-2015 as a law enforcement officer and participated in several Military Working Dog training seminars. Since her time in the military, she explored many career path changes before she finally found her true calling as a dog trainer. Chrissy loves being the reason why owners are so proud of their furry companion and enjoys educating pet parents on how impactful training is for both the owner and their dog. Currently, she is studying animal behavior science to further her knowledge in behavioral modification and help owners who struggle with such common issues with their K9 companion. In her free time she enjoys spending time with her family and training with her rescue dogs and Belgian Malinois, Vader, in order to provide them with the life every dog deserves to have!
Gage Toussaint
Gage Toussaint was born in Corpus Christi, Texas. He has been around dogs his entire life & developed a love for them at a young age. Right out of high school he joined the Air Force, where he spent 4.5 years as a Security Forces Member. Gage got out of the Air Force to pursue his passion for dogs. He finds a sense of pride transforming dogs into obedient companions for their families.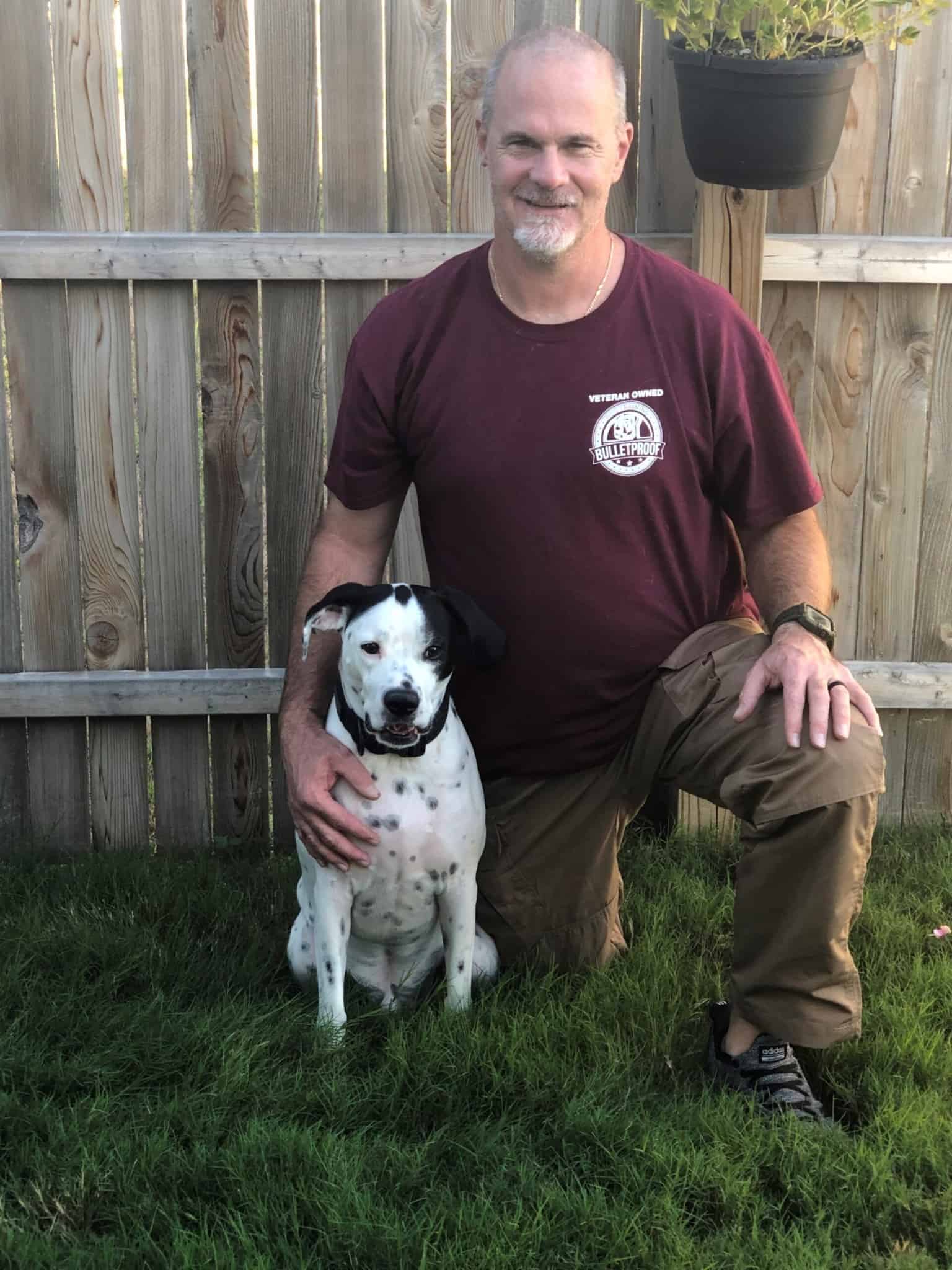 Chip Frederick
Chip Frederick was born and raised in Oakland, Maryland where he was active in sports including football, basketball and baseball. He joined the US Army National Guard his senior year of high school at the age of 17. Upon returning home after Basic Training and AIT at Ft. Leonard Wood, Missouri he began working at the local marina. He also played a year of semi professional baseball and raced ATV's in the Grand National Cross Country series. During his career serving our country he was deployed to Egypt for Operation Bright Star and the Panama Canal for training. After the attacks on 9/11 he was activated for Homeland Security in support of Operation Enduring Freedom where he led a team of soldiers for a Quick Reaction Force at the US Army War College, Carlisle Barracks, Pennsylvania for a year long deployment. In March 2003 he was once again activated in support of Operation Iraqi Freedom where he served 3 consecutive tours in Iraq. After serving his country for 20 years he worked for the largest producing logger in the state of Maryland as a maintenance technician. July 2021, Chip and his wife Lisa sold their home in Maryland and moved to the San Antonio area to semi-retire and for him to pursue his childhood dream of working with and training dogs. He has always had a passion for training dogs. In his spare time he loves spending time with his wife Lisa and their dog Melo, hunting, and dirt track racing.
Shelbie Robeck
Shelbie Robeck has been employed with Bulletproof Dog Training since the end of 2021 but has always had a love for dogs. She started her career in the dog world working at a major pet store chain and then moved to working at an animal shelter in San Antonio. She brought the knowledge from the two previous jobs and uses it daily to build bonds with the dogs and their owners. Shelbie's favorite part of training is to help create a better bond between the dog and their owner and to give everyone more freedom.
Lauryn Ward
Lauryn Ward is a native of Boerne, Texas with a true passion and love for dogs. Prior to working for Bulletproof, she spent six years as a kennel technician. Through this experience, she felt encouraged to pursue a two year Veterinary Science Program at the Pima Medical Institute of San Antonio. After completion, Lauryn explored many career paths before she found her true calling as a dog trainer with Bulletproof in 2023. Lauryn's favorite part of training dogs is witnessing the transformation of a dog and the long lasting impact it has on the dogs and their families.
Rustin Blaylock
Prior to moving back to Texas, Rustin Blaylock served 4 years as a Marine Corps Military Police Officer / Military Working Dog Handler at Camp Lejeune, NC and MCAS New River, NC. After handling dogs in the military, Rustin knew he wanted to continue a career training dogs. He has always had a passion for being around dogs and helping them reach their greatest potential.
Riley Blaylock
Riley Blaylock has been a trainer with Bulletproof since 2019. Before joining the team, Riley was the chief trainer for the military working dog section at MCB Quantico for the United States Marine Corp. In those five years he supported the president, vice president, and other various three letter agencies and multiple VIPs. Riley is excited to get to work with all the different breeds of dogs.
Abbigail Bone
Abbigail Bone is from Cincinnati, OH where she started working for Bulletproof and the Ohio team in early 2022. She then relocated to San Antonio, TX in late 2022 to be with her husband who serves in the United States Air Force where she continued working for Bulletproof. Abbigail grew up with dogs all her life and has been working with dogs professionally since 2020. She started in the medical field as a veterinary assistant which gave her a lot of knowledge and experience regarding the health and well-being of dogs. She then had a career change and wanted to get more into the training/behavior field which is where she joined with Bulletproof. In her free time Abbigail likes to spend time with her husband and their three pups Ashtrix (German Shepherd), Archer (Australian Shepherd) and Ronan (Belgian Malinois). Abbigail's favorite part about training is seeing how it changes the lives of not only the dog, but the owners as well and how much happier people can be owning a well-trained dog.
Blue Hess
Blue Hess has been professionally training dogs since 2019. He started out working at a major pet store chain as a trainer using their positive reinforcement before transitioning to his own business training at homes of clients before joining the Bulletproof Family. Blue has 4 dogs at home. He is partial to training huskies and working with anxious dogs the most. He loves being able to transform a dog into a great version of themselves.
Jaylyn Brown
Jaylyn Brown is from the East Coast and has lived in San Antonio the past 8 years. She's always had a liking for animals. Jaylyn has been working with dogs since 2019 from boarding, shelters, and grooming. This has allowed her to gain experience with dogs in different areas. Her journey has led her here to Bulletproof to help dogs and their owners create a better understanding and relationship with each other.
Jerrelle Russell
Jerrelle Russell has always loved working with animals. As a child, he would frequently bring home strays and help them. Jerrelle worked as a Veterinary Technician for over 5 years before becoming a Nurse, but ultimately he made the transition back to working with animals. Working with animals has and always will be where his heart and passion reside.